Hello all, and welcome to my Soul Train page.
Here are some pictures I collected while at Soul Train. It's different dancers and performers from the show. Above, we have two of the most prominent dancers, shine and Dia of the famed Foot Klan.These cats are on point...

And when I say on point...




I mean "on point!".




This is a gang of dancers that are on the show weekly
If you look closely too the right, you can see my head pokin' in...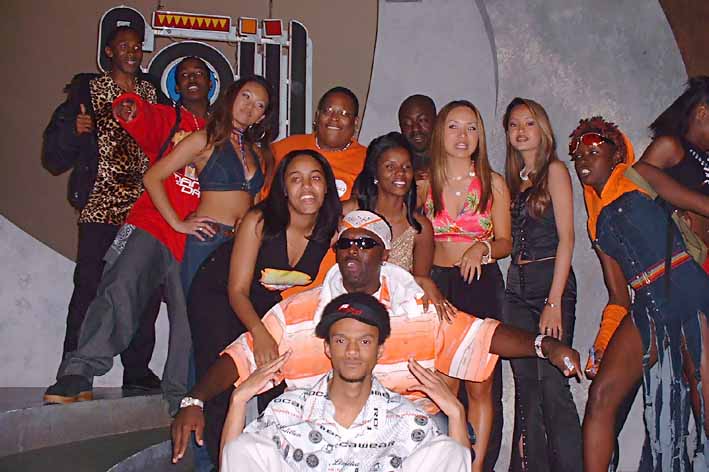 This is some of the cast of Soul Train after the final taping for the season of 2K1.
That's me in the front 2 years after the last pic.
I always get to pictures late and jump in at the last minute!




Yo, this is one of the greatest finest new men in show business right here
Idunno WHO the guy with the dreads is. He just jumped in the shot...




Me and Eve just before she goes on to perform.
If any of y'all heard she was cool as hell? Ya damn skippy!




Me and Amel between shows. Fine as she could ever be
And has the world's most adorable little girl




Idunno what song she was singin, but she was tearin it up!
Lip Syncin' it up? Doesn't ring as well...




Big Gipp rips his soon to be classic flow from
"I'll Take You Home With Me"




Cee-Lo quickly backs up his patna.




Guess who's next! Khujo keeps the flow rollin'
Yo, how many of y'all still think he's named after a rabbid dawg? Read, Black people...




Goodie Mob clownin' around on stage.




Okay, which one of us does not look like a thug?
Yep! That's me! The one who looks like Organized Noize's Accountant!




Yo, why dude have to do this song over again because he did
his whole jawn with his fly open?
still he did a good job. Kept his energy through it all.




I had a ton of opps to take pics of his performance but 1) he moves
too fast for my shutter, and
2) I got trampled by the females.




These cats had live instruments and performed
off their live CD. It felt like a real concert!




These are most of the girls that dance on the show
A lot of 'em are hella cool.




These are three of the girls that dance on the show
These are hella cool.




Here are some very recognizable faces: Shine, AJ and Daryl.
They are all cool. The ones on either side of AJ are Mr. and Mrs. Soul Train
And members of the famed B-Boy group "The Footklan".




Trina and Silkk after doing their new single on the train.




Yeah, that's right. You know it.
It's BlackSoultan and the Baddest Chick!




The 1000th episode.
I dare anyone to step on this stage and battle me...




The Venerable Don Cornelius is Honored for
his 1000th episode and his 31st aniversary of being on the air.
G'on witcha bad self, black man!




Faith Evans is called upon to say a few words after
Performing her hit single "You Gets No Love"




Shemar expresses his love and admiration for the Legacy
that is Don Cornelius Productions.




This is the Behind the Scenes crew
without whom the show could not go on.




Yeah, Don. Let's do it again for 2000 more shows and beyond...




Click Here to flip back to the main page...